Rishi Bankim Chandra College is a multi-faculty (Arts, Science and Commerce faculties) co-education College, offering Honours & General and PG Courses affiliated to the West Bengal State University.
Feet planted on solid earth and head held high, ever since 1948 Rishi Bankim Chandra College has stuck to the relentless pursuit of Rishi Bankim's mantra - "Bande Mataram" - adoring our motherland by catering quality education for the last five decades. The college boasts of being acknowledged by the UGC for its untiring service to the nation for over fifty years. It was accredited by NAAC for excellence as a higher education institution back in 2004 and this year (2013) the college is again going for reassessment by NAAC which unerringly reflects the impeccable vigil the institution maintains on the process of delivering Quality Education. Assessing own limitations and constraints, reshuffling and reorienting the available resources and stretching to newer vista so as to uphold successfully the heritage of the college and also to cope with the vicissitudes of this drastically changing world of today - all form the trivet of this metamorphosing college.
About The College
Goal & Missions
Brief History
The College Campus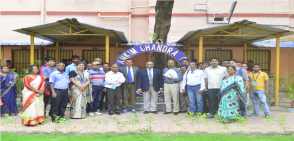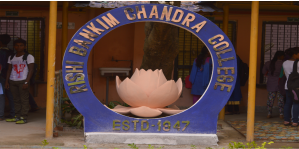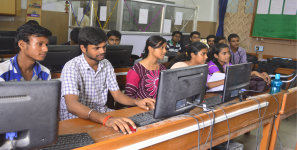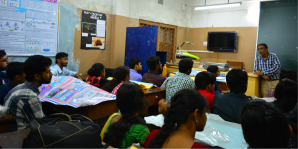 Excerpts from College Constitution (1948)...
"The college shall aim at the physical, moral, social and cultural development of the students and also serve as a centre for the diffusion of knowledge and culture in the locality. It shall provide instruction in Arts, Science and Commerce with a view to preparing candidates for different university examination. It may also conduct courses of training for examination conducted by other recognised bodies and may also issue certificates of proficiency of its own in any particular branch of learning or vocational or technological course."

Rishi Bankim Chandra College, situated in the district of North 24 Parganas, West Bengal, was established in 1947 - the glorious year of Indian Independence. Keeping in tune with India's tryst with a new destiny, a group of educationists and visionaries, living in and around Naihati and Bhatpara, who bore the rich legacy of Bengal Renaissance and the struggle for independence, felt the need for an institution providing quality education to the masses. Consequently, on the eve of the Independence day, they mooted the idea of establishing a college at Naihati, which, they felt, would soon become a seat of higher learning. As the nation aspired for a creative and dynamic growth, the magical incantation of 'Bande-Mataram' composed by Rishi Bankim Chandra Chattopadhyay, a resident of Naihati, inspired millions. With immense national pride, the Steering Committee of the college, in its First Meeting held on 2nd November, 1947, decided to perpetuate his memory by naming the college "Rishi Bankim Chandra College." The college has since grown to become a premier institution of its kind in the district. Classes started at the Naihati Mahendra High School on January 15, 1948 and the day has ever been observed as the college Foundation Day. It has completed 75 years of dedicated service to the nation in this Platinum Jubilee Year.
In June 1948, the college was shifted to its present premises. It comprises integrated college buildings on two adjacent plots on 1.3 acre and a large playground with gallery-shed on fully walled and high-fenced 3.5-acre of land. The college is located near Rishi Bankim Chandra's ancestral home at East Kantalpara, forty kilometres north of Kolkata, on the eastern bank of River Hooghly, and is well connected by roads, Kalyani Expressway and the Railways. The nearest Railhead is Naihati under Sealdah North Division of Eastern Railways.
A four-storied building, State-of-art Diamond Jubilee Block was inaugurated on 15th January 2011,. It presently houses 2 post-graduate (P.G.) and 5 under graduate (U.G.) departments of the college. A three-storied Students' Amenities Block houses the Students' Canteen on Ground floor and Union rooms on 1st Floor was inaugurated in 2006, the 2nd floor was completed in 2019 with a Seminar Hall. A two-storied building was also added for infrastructural expansion in 2019.